We offer the most amazing Nuru massage in all of London. This is a Japanese style massage, which is highly sensual in that the masseuse is totally naked giving you a super slippery body-to-body hot massage like you cannot even imagine. If this is what you're looking for, there is no need to look any further because the LSM's Nuru Massage will not disappoint.
Prices: Nuru massage London with happy ending (start from £140 per hour)
[For outcall nuru massage in London, UK , a small taxi fee (£20 for central London, £50 for Heathrow airport) for masseuse will be added.]
Book Your Session:
Call:  +44(0) 742-326-0068
Email: booksensualmassage@gmail.com
History of London Nuru Massage
Nuru Massage was virtually unknown in the UK until just recently when it suddenly popped into people's awareness. We are proud to be offering this new and amazingly erotic massage as part of our services. Many clients have been very pleased by the experience that involves the use of natural gels derived from seaweed extract and has a very slippery silky feel to it. Your masseuse warms the gel and uses it to give you a complete body rub. Once you are fully covered in the Nuru gel, your masseuse will slide her naked body on top of yours. This creates an unimaginably sensuous body-to-body experience that's unlike any other type of sensual massages.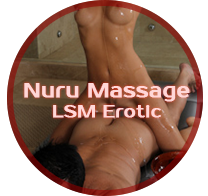 Benefits of Nuru Massage
Although this is such a sensual massage, it is also incredibly relaxing, more so than most others we offer. It also happens to be excellent for your skin and health in general, as seaweed is well known for it's detoxifying and cleansing properties. A Nuru massage is type of body treatment that will relax you head-to-toe and leave you totally renewed with smooth feeling fresh skin. Most of our clients appreciate this additional benefit. Combining an erotic touch massage with a revitalizing skin treatment makes the Nuru Massage in London very much in demand.
The Nuru Massage in London is usually performed on a special bed in the comfort of your own room. The gel is warmed to the perfect temperature to accentuate the unique sensations resulting from this amazing experience. You will be aroused and relaxed at the same time with our incredible sensual Nuru massage.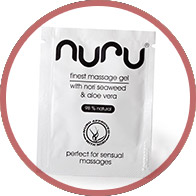 Nuru Gel
The use of the Nuru gel, which is tasteless and odorless, is an essential part of the massage. This is not oil; it is a special Nuru gel, derived from the leaves of seaweed. This is applied all over the body to enhance the tactile sensations of the experience. Your Nuru masseuse will use her entire naked body intertwined with yours during the massage treatment. She will be young, beautiful and sexy as well as highly skilled in achieving the kind of tactile sensations that will not only relieve your stress but excite you beyond all expectations.
Your Nuru massage experience
You will be in your own warm and very pleasant room surrounded by soft music and flickering candles. The Nuru massage gel will be heated before it is applied all over your body. Your naked body will flow together effortlessly with your naked masseuse, while she caresses and gently strokes your muscles with highly skilled movements.
There will be no shame or guilt in this experience, as you will be enjoying the pleasures that life affords. Although you may become enamored with your masseuse and her beauty, we sincerely invite you to come back to enjoy the unique style and touch offered by each one of our other masseuses.